See on Scoop.it – Health and Wealth News To Use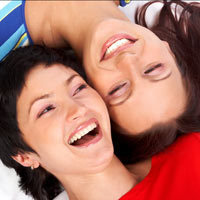 Of all my tools to combat depression and negativity, humor is by far the most fun.
What more can I say? I couldn't agree more. Here are the highlights from the article I read on the healing power of humor.  The link to the full version w/details is below.
1) Humor can combat fear
2) Humor comforts
3) Humor relaxes
4) Humor reduces pain
5) Humor boosts the immune system
6) Humor reduces stress
7) Humor spreads happiness
8) Humor cultivates optimism
9) Humor helps communication
My grandmother, God bless her, lived to be 107 years old. And up until she was at least 106 she always made me laugh! And the crazy thing is, I don't think she was even trying to be funny. She just was. So to honor her I will tell you her favorite joke. Ready? Ok. here goes: How do you say constipated in German? //////////?????? Farfrumpoopen.
I know it's corny. But you at least smiled, didn't you?
Now go there and share!
Mellisa McJunkin
Humor's biggest fan
See on the full article on mindfulselfexpress.visibli.com