Archive for the 'Emotional Health' Category
4 Ways Exercise Makes Us Happy and Healthy by – Jennifer McGregor
Some people say exercise is the "cure" to nearly all of our life's ailments. Whether you're having trouble sleeping, are stressed out, or feeling down, it could be that all you need is to get up and moving. The truth is while exercise is famous for making us fit and healthy, it also has the power to help us lead happier lives.
Exercise Fights Insomnia
Let's face it, losing weight is easy for some. But for others of us it seems next to impossible to achieve significant weight loss. My guest blogger, Cynthia Pasquella from Hungry Hotties has broken it down for us to understand how fun and how easy it is to add more veggies to the menu, to help explode that weight loss barrier.
5 ways plant based foods can radically boost your weight loss
By Cynthia Pasquella – CCN
Empathy And Altruism – What We Can Learn From Our Animal Friends
-By A. Scott Roberts
The 12th step of AA asks for recovering addicts to share their experience and help others in the addiction trap. An important aspect of recovery is positive socialization which is now understood as being evolutionarily adaptive. We may often think that being altruistic always comes from feelings of empathy. But research indicates that there is more to consider. Read the rest of this entry »
See on Scoop.it – Health and Wealth News To Use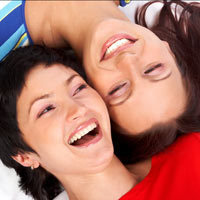 Of all my tools to combat depression and negativity, humor is by far the most fun.
What more can I say? I couldn't agree more. Here are the highlights from the article I read on the healing power of humor.  The link to the full version w/details is below.
1) Humor can combat fear
2) Humor comforts
3) Humor relaxes
4) Humor reduces pain
5) Humor boosts the immune system
6) Humor reduces stress
7) Humor spreads happiness
8) Humor cultivates optimism
9) Humor helps communication
My grandmother, God bless her, lived to be 107 years old. And up until she was at least 106 she always made me laugh! And the crazy thing is, I don't think she was even trying to be funny. She just was. So to honor her I will tell you her favorite joke. Ready? Ok. here goes: How do you say constipated in German? //////////?????? Farfrumpoopen.
I know it's corny. But you at least smiled, didn't you?
Now go there and share!
Mellisa McJunkin
Humor's biggest fan
See on the full article on mindfulselfexpress.visibli.com